Goal of the Year - Fangear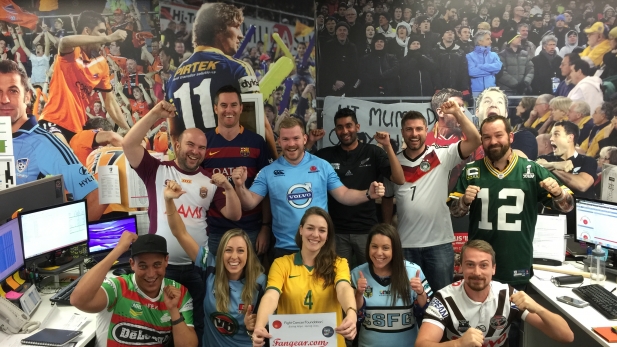 The Footy Colours Day Team asked our incredible supporters at Fangear to share their amazing story. We could not have organised our Footy Colours Day celebrations on Friday 4 September at Royal Children's Hospital for our young heroes in the cancer ward without the generosity and support of Fangear. Thank you Fangear for uniting in the fight against cancer this Footy Colours Day season!
Fangear unite this Footy Colours Day season!

Go to any game of footy – whether it be AFL, NRL, soccer or rugby – and the ones barracking the loudest are often the smallest. For what they may lack in physical stature, kids make up for in heart, passion and excitement. That's why the team at Fangear.com loves fans: Because it doesn't matter how big you are, how old you are or where you're from, it's all about a love for the game and everyone can get involved. Unfortunately, another thing that affects nearly everyone at some point is cancer.
That's why when the team at Fangear heard about the Fight Cancer Foundation and their Footy Colours Day initiative, it was a no-brainer to get involved and lend a hand. With the primary aim being to get people wearing their team colours in support of kids cancer research, and Fangear being Australia's largest online retailer of official team gear, it made sense for the two to combine to get as many people involved as possible.
"After first hearing about the initiative late last year, I noticed the donation target hadn't quite been reached," said Fangear.com Manager Ace Coburn. "It didn't make sense to me. Aussies love helping a good cause almost as much as their footy team, so combining the two should be a golden formula. "It can sometimes be difficult for charity initiatives to receive widespread media attention so, given the fact we can dress every footy fan in the country all from the one webstore and have quite an engaged database, we thought we could really help to spread the word and encourage people to participate."
To do so, Fangear have offered to donate 10% of all footy sales on the site to the Fight Cancer Foundation for six weeks, starting from mid-August and running until September 30. Simply by using the code 'FOOTYCOLOURSDAY' at checkout, the customer will also receive a 10% discount to thank them for getting involved.
"By approaching it this way allows us to both encourage and reward people for getting involved, while also helping Fight Cancer's cause through a direct donation," Coburn continued. The promotion has been highlighted not only on the site itself, but through social media, email communication and other platforms. Fangear also sent 600 products from Sydney down to Melbourne for the young cancer patients to receive on the day and at a charity race day also organised by the Fight Cancer Foundation.
With jerseys, training gear, supporter wear, game-day accessories, toys and more for every single footy team – and catering for men, women and kids – Fangear.com is a one-stop shop for anyone looking to get involved in Footy Colours Day. "We have tens of thousands of products covering pretty much every fan in Australia, so hopefully everyone can jump online, find something they like, take advantage of this offer and join the fight," he added. "The more people that get involved, the more money we can raise for cancer research." Having experienced firsthand the distress cancer can cause families and loved ones, Mr Coburn added that on a personal level it was very important for his team to get involved.
"Around a half of all men and a third of women are diagnosed with cancer at some stage, and over 800 kids are diagnosed every year in Australia, so the ripple effect of that extends throughout not only families and social groups but broader schools and communities," he continued.
"It's something which, unfortunately, most people will experience at some point, so anyone who dedicates their time and effort to researching and finding a cure for this deserves all the help they can get. "Hopefully we have helped and can continue to do so in the coming years."
By Fangear
Congratulations Fangear!