Special Mention Award - Malvern Central School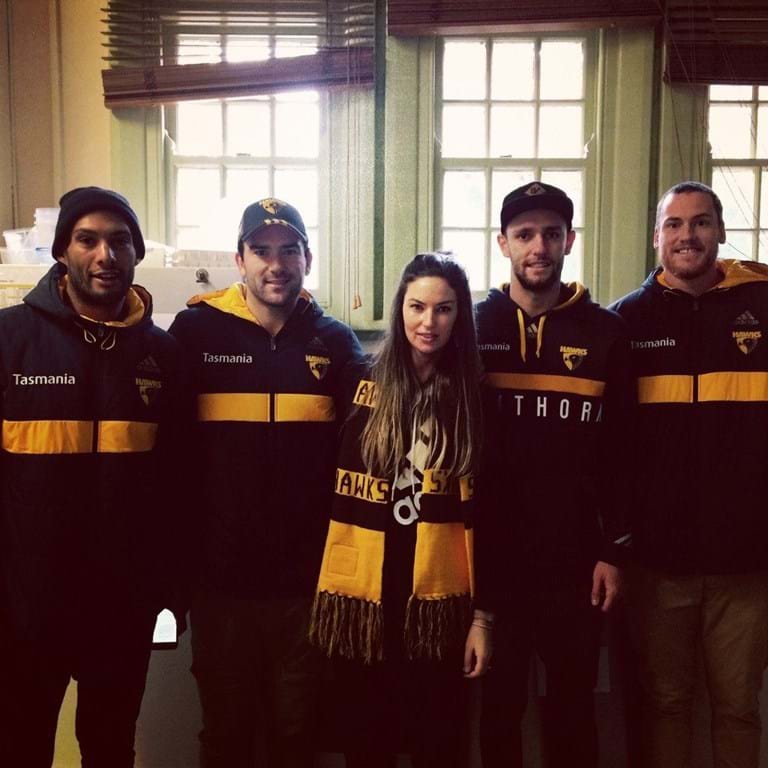 It was a family affair at Malvern Central School this Footy Colours Day season!
Last year Malvern Central School raised $675 hosting an incredible Footy Colours Day celebration throughout the school. This year Malvern Central School took Footy Colours Day to another level raising an incredible $8,365.10.
The main reason Malvern Central celebrated Footy Colours Day so early in the year (May) and not September 4, is due to the availability of the Hawthorn football players celebrating with the children as September is a busy time for the club leading up to the footy finals. The Footy Colours Day Team organised a cheque presentation at Malvern Central School to acknowledge their incredible fundraising efforts and loyal support of Footy Colours Day.
We have shared photos of the cheque presentation with Fight Cancer Foundation Managing Director Eric Wright and mascot BoBear as well as some great snaps taken during Malvern Central Schools Footy Colours Day Fundraiser. Chelsea Lewis from Malvern Central School who organises Footy Colours Day each year wrote to the Footy Colours Day Team to share Malvern Central's Footy Colours Day 2015 celebrations and fundraising success.
Malvern Central School Footy Colours Day 2015
Having the connections with the Hawthorn Football Club I invited my brother Jordan Lewis out for breakfast to discuss how we could raise more money for Fight Cancer Foundation's Footy Colours Day. We both thought a raffle was the best way, Jordan and Hawthorn donated 4 prizes; a signed 2015 Hawthorn Jumper, signed pair of footy boots from your favourite Hawthorn player, a footy from your favourite Hawthorn player and 4 tickets to a Hawthorn match. We also had one of the prep parents who works at Essendon Football Club match our Hawthorn prizes taking our total to 8 amazing prizes. Our students had a busy 2 weeks selling their raffle tickets in the lead up to Footy Colours Day.
The weather wasn't very kind to us on Footy Colours day, meaning at the last minute we had to cancel our free sausage sizzle that the parents club were going to run on the day and change our footy clinic outside to an indoors Q&A/signing session instead. On the day all students came dressed in their footy colours and brought along a gold coin donation which also went to the Fight Cancer Foundation. Classes were provided with an activities pack for them to pick and choose activities that their class wanted to do throughout the day. Jordan Lewis, Jack Gunston, Josh Gibson and Jarryd Roughead arrived at recess and spent 70 minutes with our Prep-Year 2's before heading to see the year 3-6's.
Prior to the day our Junior School Council ran a session in their own classes asking their peers what questions they wanted to ask the boys. Topics covered were – nutrition, community, leadership and communication. At the end of this Q&A session we got the whole school together to draw the raffle. Jordan did the honours and we had some very excited winners. We also got Jordan to announce the total money raised this year. The day, as well as the lead up to Footy Colours Day was a huge success. All the students and teachers had a great day. We also were lucky enough to have AFL Victoria help us out by providing 80 footballs for our clinic (although we didn't really need them in the end due to the weather) and donate 8 Auskick footballs for prizes. In addition our Assistant Principal organised 40 Jordan Lewis AFL cards which we got Jordan to sign. These were given to each home room teacher to give to the 'best on ground' student of the day, which was left up to the teacher's interpretation of that award.
We had a number of activities for the day which included:
Longest kick competition
Longest handball Competition
Goal kicking competition
Write a letter to your favourite player. Some classes chose to use this template from the Australia Post Website
Tally chart and graph of the team colours students wore in your class
Persuasive piece (Year 5&6) 'Should AFL players be seen as heroes? Why or why not?'
Caroline from Footy Colours Day was a huge help in the lead up to our Footy Colours Day, providing information and resources to us ahead of the scheduled Footy Colours Day which we really appreciated.
We were very excited to have representatives from Footy Colours Day and Fight Cancer Foundation come to our school for the presentation of the cheque from Malvern Central School to Fight Cancer Foundation. The students were particularly excited with the surprise arrival of Bo Bear!
It was an honour to hand over the cheque for $8365.10 to such a worthy charity in which the money goes towards families whose children have been affected by cancer. We were proud of the fact that we were told our school had raised more money to date than any other school in Australia. What a great surprise! This has spurred us on to raise even more money next year.
We can't wait for Footy Colours Day 2016!
By Chelsea Lewis
CONGRATULATIONS MALVERN CENTRAL!