Adelaide to Geelong on a bike – how ten everyday blokes are making a different in the fight against cancer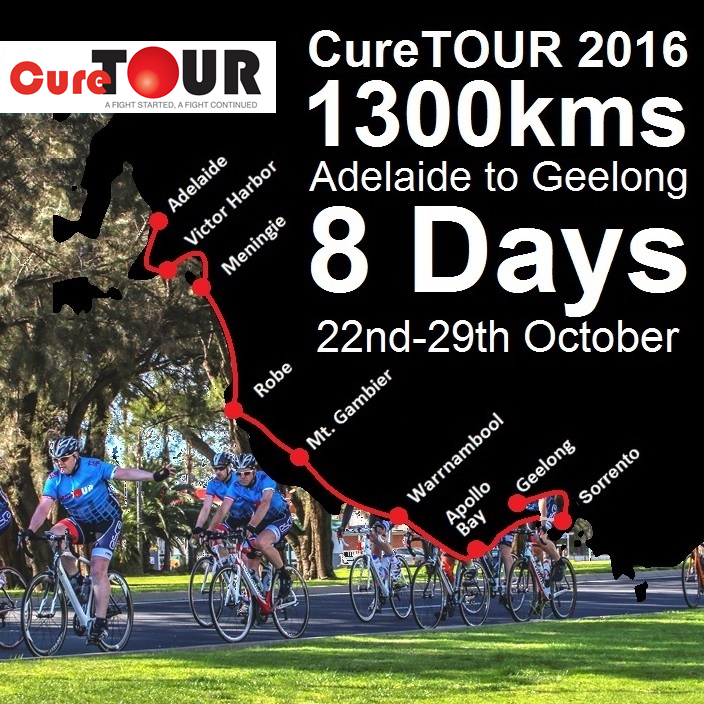 Over the next week, ten everyday Australian blokes will cycle 1300kms from Adelaide to Geelong in support of people living with cancer and their families.
Aged between 25 and 54, this group of weekend warriors are putting their endurance and puncture repair skills to the test for the bi-annual CureTOUR ride for Fight Cancer Foundation.
Like many Australian families, the ride is personal with the team of 12, including two support crew, having been touched by cancer. The group is determined that their eight day ride will do something to help the more than 130,000 Australians who will be diagnosed with cancer this year.
"We all know someone who has fought – and sometimes lost – their battle with cancer. Raising money for an organisation like Fight Cancer Foundation means that we are directly supporting families through research, emergency accommodation and education support," Tour CURE founder and leader Gary Carnell said.
Over the past few months the dedicated riders have given up countless hours planning, training and fundraising to make sure CureTOUR is an enormous fundraising and awareness raising success.
Fight Cancer Foundation Managing Director, Eric Wright will be in Geelong on Saturday 29 October to welcome the riders to their final destination.
"We're constantly astounded by the support we receive from people all around Australia – just like the CureTOUR riders. Their tremendous effort makes a significant contribution to our ability to help families living with cancer," said Mr Wright.
CureTOUR will depart Adelaide on Saturday October 22 from ESCA Restaurant on the Marina Pier at Holdfast Shores, Glenelg and will travel to Victor Harbor on their first day. The group will cycle for approximately eight hours per day, travelling an average of 163kms each day.
CureTOUR began in 2010 in honour of Jason Mahoney, Gary Carnell's brother-in-law who passed away from leukaemia. Jason, his wife and three young daughters stayed in one of Fight Cancer Foundation's patient accommodation centres while he received treatment. Since its inception, CureTOUR has raised more than $100,000 for people living with cancer and their families.
If you live in South Australia or Victoria be sure to cheer them on as they ride to fight against cancer:
Date Depart Arrive
| | | |
| --- | --- | --- |
| Saturday 22 October 2016 | 9.00am – ESCA Restaurant Marina Pier, Holdfast Shores, Glenelg | 4.30pm – Victor Harbor |
| Sunday 23 October 2016 | 9.00am – Victor Harbor | 4.30pm – Meningie |
| Monday 24 October 2016 | 7.30am – Meningie | 4.30pm – Robe |
| Tuesday 25 October 2016 | 8.00am – Robe | 4.00pm – Mt Gambier |
| Wednesday 26 October 2016 | 7.30am – Mt Gambier | 5.00pm – Warrnambool |
| Thursday 27 October 2016 | 8.30am – Warrnambool | 4.30pm – Apollo Bay |
| Friday 28 October 2016 | 8.00am – Apollo Bay | 4.30pm – Sorrento |
| Saturday October 2016 | 7.00am – Sorrento | 4.30pm – Geelong |