Update on Ella's Story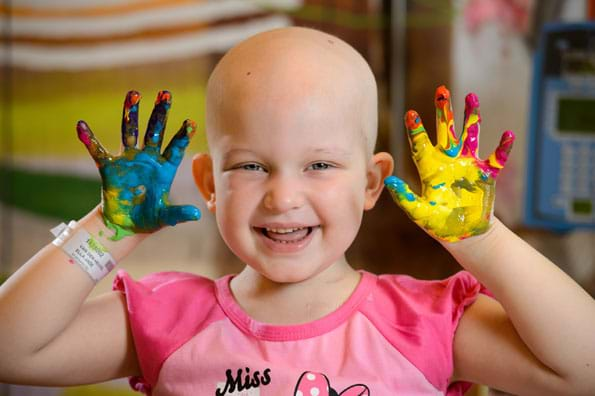 In 2009, before the age of two, little Ella was diagnosed with Acute Lymphoblastic Leukaemia. This was another blow for Ella's mother Kerryn, who had already lost Ella's dad Mark to a rare form of brain cancer the year earlier.
Following multiple rounds of chemotherapy, two relapses and a bone marrow transplant we are happy to share that Ella who stayed in one of Fight Cancer Foundation's accommodation centres is now 18 months post-transplant and doing really well. Kerryn recently shared with us the good news and an insight into how the family is adjusting back to life in Tasmania.
How is Ella progressing post treatment?
Ella is doing really well post treatment. We still fly back and forth between Hobart and Melbourne for tests, scans and specialist appointments every 3 months and meet with the Hobart team in between. Whilst she's not showing any signs of cancer relapse, she has certainly been left with a trail of other side effects that we're dealing with. She's behind her peers cognitively (but thankfully getting one on one tutoring support for this), we are dealing with Avascular Necrosis (break down of bone in her humerus, femur and tibas) and more recently a diagnosis of Chronic Pain Syndrome.
How has Ella transitioned back to school?
Ella has settled back into school well. She's starting to rebuild friendships with her peers – something that she has really missed out on over the last 8 years. She still gets very tired, both physically and mentally, so she tends to still miss a bit of school.
Has Ella resumed any old hobbies or started anything new?
Ella has resumed going back to dancing, which is something she has longed to do! With her AVN and chronic pain syndrome we have to be a bit selective on what dance styles she does, however she's currently enjoying a Lyrical group. She has started swimming lessons and absolutely nailing it! She's loving being able to do what all her peers are doing, which brings back some normalcy to her life.
What is the family enjoying about being back home?
When you have to move away for treatment, you start to feel very isolated, disconnected and feel a lot of stress. Being back home has been absolutely wonderful. We feel calmer in our own home, we sleep better, we feel comfort. We love that we are close to our family and friends and that we can get out and about, and socialise. It's hard to find the words that truly represent how you feel when you get back home – but "bliss" comes fairly close to it!
Ella has settled back into life in Tasmania, and is enjoying getting stuck into her school work, extra-curricular activites and spending time with friends and family.