Commonwealth Government supports Stage 2 expansion of Hilltop
Fight Cancer Foundation to provide more beds for regional cancer patients thanks to Federal funding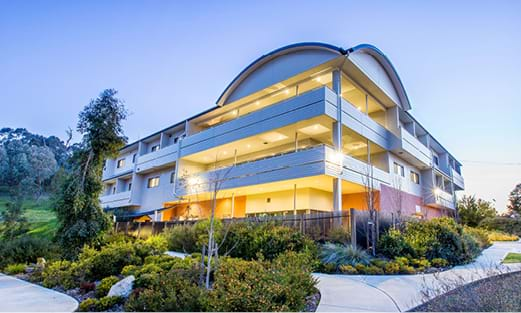 Fight Cancer Foundation's Albury Wodonga patient accommodation centre, Hilltop, has today received a generous boost to its expansion plans from the Federal Government's 'Building Better Regions Fund'.
The announcement was made Monday morning by The Honourable Sussan Ley MP, Federal Member for Farrer, Assistant Minister for Regional Development and Territories.
The $1.9 million grant will assist Fight Cancer Foundation and its partners, Rotary Club of Albury North, Lions District 201V6 and the Zonta Club of Albury Wodonga to expand the Hilltop accommodation centre for cancer patients to meet growing community needs.
Fight Cancer Foundation's Managing Director, Eric Wright, said that approval of this grant is wonderful news for the people of Albury Wodonga and surrounding towns that access the Albury Wodonga Regional Cancer Centre.
"Hilltop offers first class, cost effective accommodation to cancer patients and their carers when they need it most. Expansion of Hilltop will ensure we are able to meet increasing demand for our services. We are very grateful to the Commonwealth Government's Building Better Regions Fund and Sussan Ley MP, Member for Farrer for their support of the work we do for the people of the Albury Wodonga region," said Mr Wright.
Hilltop provides people receiving treatment for cancer and their carers with comfortable accommodation just 50 metres from the Albury Base Hospital and Albury Wodonga Regional Cancer Centre.
An additional 10 accommodation units, additional communal spaces and other guest facilities will be part of the expansion which is expected to cost approximately $3.8 million.
The expansion will increase the capacity of this unique and vital service by 3,650 guest nights each year and will help reduce the physical, emotional and financial stress associated with cancer.
Since opening in 2013, Hilltop's 20 specialist rooms and communal facilities have supported more than 1,000 families. The only specialist accommodation in the region, Hilltop, helps ease the financial and transport burden cancer places on patients and their loved ones travelling from inner and outer regional and remote areas of Victoria and NSW.
In line with planned increases in the Albury Wodonga Regional Cancer Centre's services, the expansion of Hilltop will meet the growing demand for affordable patient accommodation in the region.
Plans for the expansion are currently with Albury City for approval which is expected very soon.