AFL Victoria's Footy Colours Day Competition Winners Announcement!
AFL Victoria teamed up with Footy Colours Day this season to encourage all Victorian schools to show their true colours for kids with cancer.
Schools across Victoria were encouraged to register their Footy Colours Day event and share snaps from their Footy Colours Day celebrations to go into the running to win one of five AFL Victoria prize packs valued at over $1000!
We are thrilled to announce in conjunction with AFL Victoria the winning schools for 2018 are:
St Paul's Anglican Grammar
St Vincent de Paul Primary School
Merrijig Primary School
Heatherwood School
Grey Street Primary School
Special thanks to AFL Victoria for joining the Footy Colours Day team in 2018! You can find details and photos from the winning schools' Footy Colours Day events below.
St Paul's Anglican Grammar School
The school have participated in Footy Colours Day for many years as it gives them a formal reason to raise funds for a great cause.
The school campus is ELC to Year 10, and for two hours, Year 6 students hosted 11 activities from handballing, to Specky marks and many activities in between. Some students hosted kinder for a 'one hour' action filled event. This was enough for the little people. Enthusiasm was infectious, but the energy expended very quickly.
Students rotated through the activities with their team songs blaring out across the oval. The students danced, sang, booed opposition songs but all with a fantastic attitude of participation. Pies soothed the hunger!
Afterwards, Year 10 students supervised rotations so that the Year 6 students could enjoy participating in the activities. A school representative said "Our Year 6 students recognized the importance of the fund raising and the joy that was created through their efforts."
St Vincent de Paul Primary School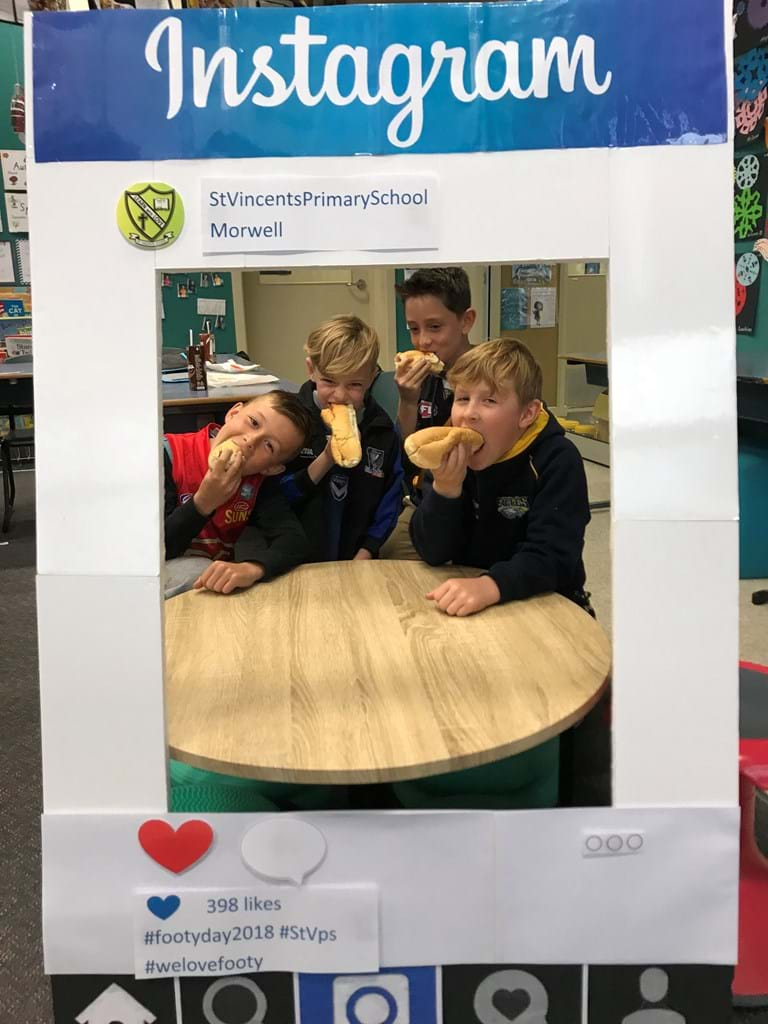 All students and staff at St Vincent de Paul Primary School dressed up in their favourite team's colours and made a gold coin donation to support Footy Colours Day. As part of the day the students enjoyed feasting on a hot dog or meat pie with sauce to celebrate their team colours! Throughout the day the students participated in a range of school activities downloaded from the Footy Colours Day website including; colouring competition, bingo, word search, footy kicking competitions and finding extra facts. The students and staff also posed with the school's Instagram frame! A representative from the school said "It was a wonderful day filled with smiles and healthy competitions raising money for a wonderful cause."
Merrijig Primary School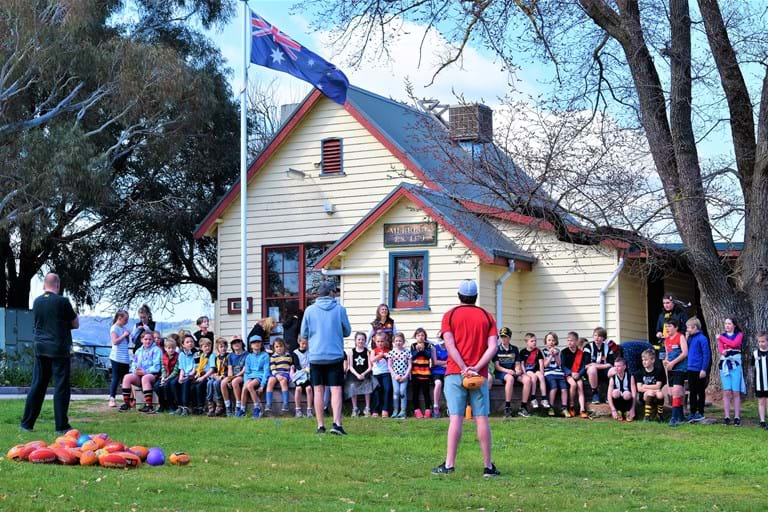 Merrijig Primary School is a small rural school in the Delatite Valley. All 41 children and staff were asked to come along dressed in their favourite football colours, and if they didn't support a team, to dress colourfully. The school borrowed equipment from their local Auskick, including footballs, specky and tackle props and witches hats. Cameron, the coach of the local football team, – the 'Mansfield Eagles', came along on the day to run the activities. The children warmed up with exercises, played 'rob the nest game', did speckies, tested out their tackling skills on the tackle man, kicking, marking and handballing practice. After an hour of running and laughing it was time to rest and recuperate, before taking part in a whole school football match. Everyone loved it despite a few footballs to the upper torso. After working up an appetite, lunch was served, the menu being 10 inch hot dogs, with rolls and sauce. A school representative said "Our school celebrated Footy Colours Day with a vengeance. A great day was had by all, and they were so pleased to have had so much fun and helped to fund the cancer fight at the same time.
Greystreet Primary School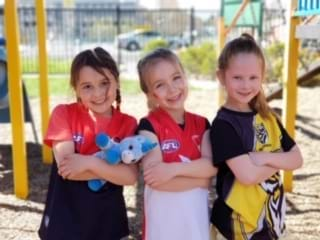 Incididunt ut labore et dolore magna aliqua consectetur adipisicing elit, sed do eiusmod tempor. Ut enim ad minim veniam, quis nostrud exercitation ullamco laboris nisi ut aliquip ex ea commodo consequat. Integer pellentesque turpis sit amet purus feugiat auctor. Cras in metus sed justo eleifend porta. Sed consectetur dui erat, et aliquam erat aliquam vitae. Etiam iaculis, sapien in posuere varius, ante nunc consectetur tortor, non tempus mauris risus ac neque. Fusce venenatis elit ut sapien bibendum vestibulum. Nam sapien arcu, interdum vel consequat vitae, adipiscing vitae ligula. Integer posuere, tortor in consectetur congue, risus ipsum interdum ante, sed porttitor erat dui id diam. Donec ut mi pellentesque, imperdiet sapien sed, egestas ante. Reprehenderit in voluptate duis aute irure dolor in dolore eu fugiat nulla pariatur velit esse cillum.
Heatherwood School
Heatherwood School is a special needs school in Donvale. The school has numerous kids who have a multitude of illnesses, conditions and disabilities. Footy Colour Day day brings together everyone at our school and is always looked forward to by everyone (particularly the staff). The school decorates their staffroom, host long distance kicking competitions run by their Yr12's and classes do the Footy Colours Day Bingo and colouring in. The school also offers footy foods at the canteen and their kitchen supplies staff a footy themed morning tea. The school also runs assemblies where the kids get up and sing their footy clubs theme songs. Next year it will be an entire school assembly! A representative from the school said "Its truly amazing to see a student, who has a multitude of illnesses and in hospital often, donate money to such a worthy cause when their own cause is just as worthy, given what some of our kids go through. Footy Colours Day is our ONE day that is a highlight of the year. I cannot stress enough how valuable this day is to our school in terms of both student and staff morale, along with the satisfaction everyone gets from giving to such a worthy cause."