Supporting Families Fighting Cancer since 1989
Fight Cancer Foundation is a national charity dedicated to helping people living with cancer and their families, and funding vital research into cancer treatment and cures.
Our support services include accommodation for people who must travel to access life-saving cancer treatment, and education support for children and young people living with cancer.
---
Meet Isabella
little Isabella was diagnosed with PreB-ALL (Acute Lymphoblastic Leukaemia) four days after Christmas 2019. She was just four years old.
The family met Fight Cancer Foundation when they needed to relocate six hours away from home to Melbourne. Isabella needed treatment at The Royal Children's Hospital and the family needed a place to stay.
The family - mum Maria, dad Sam and Isabella's twin sister Alessandra had to relocate to Melbourne for 11 months during Isabella's treatment. Home became 'The Holiday House' - a Fight Cancer Foundation apartment minutes away from the hospital.
On the 19th of April this year, Isabella had her final chemotherapy and rang the bell at The Royal Children's Hospital with excitement for what marked two years and four months of treatment.
She has finished treatment and is in remission.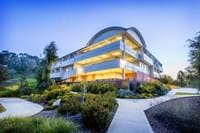 Hilltop Accommodation Centre: Stage 2 Expansion
Fight Cancer Foundation's Albury Wodonga accommodation centre, Hilltop, provides patients and their carers with comfortable and affordable accommodation close to the Albury Base Hospital, Albury Wodonga Cancer Centre and other local treatment centres.
Increasing demand has prompted Fight Cancer Foundation to embark on the Stage 2 expansion of Hilltop, which will increase capacity of this unique and vital service by 3,650 guest nights each year.
---