Supporting Families Fighting Cancer since 1989
Fight Cancer Foundation is a national charity dedicated to helping people living with cancer and their families, and funding vital research into cancer treatment and cures.
Our support services include accommodation for people who must travel to access life-saving cancer treatment, and education support for children and young people living with cancer.
---
Meet Mack
When Mack, my little boy, was rushed off to Melbourne for intensive chemo, I just wanted to be with him. I couldn't take away his pain, but surely I could hold him and comfort him.
But I couldn't be there.
We live on a farm outside Bendigo, and at that time, I had a nine-month-old baby and a three-year-old at home.
We couldn't find – let alone afford – anywhere to stay in Melbourne at short notice.
So I had to kiss my son goodbye, while I stayed at home caring for my other kids.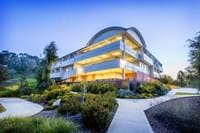 Hilltop Accommodation Centre: Stage 2 Expansion
Fight Cancer Foundation's Albury Wodonga accommodation centre, Hilltop, provides patients and their carers with comfortable and affordable accommodation close to the Albury Base Hospital, Albury Wodonga Cancer Centre and other local treatment centres.
Increasing demand has prompted Fight Cancer Foundation to embark on the Stage 2 expansion of Hilltop, which will increase capacity of this unique and vital service by 3,650 guest nights each year.
---