Supporting Families Fighting Cancer since 1989
Fight Cancer Foundation is a national charity dedicated to helping people living with cancer and their families, and funding vital research into cancer treatment and cures.
Our support services include accommodation for people who must travel to access life-saving cancer treatment, and education support for children and young people living with cancer.
---
Meet Connor & Jared
Fifteen years ago, identical twins Connor and Jared were diagnosed with an incredibly rare leukaemia, which affects one in a million infants.
The only life-saving option was a cord blood transplant.
The family was forced to split their time for almost two years between The Royal Children's Hospital and Fight Cancer Foundation's accommodation centre.
They faced monumental life-threatening challenges - endured general anaesthetics, chemotherapy, stem cell transplants, invasive treatments, countless blood tests, more than 300 blood transfusions, repeated hospital admissions and had their spleens removed at 17 months .
Today the twins are best mates and thriving at school. They are leukaemia-free and have set clearly defined and inspiring career paths.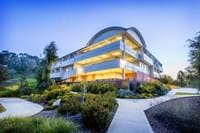 Hilltop Accommodation Centre: Stage 2 Expansion
Fight Cancer Foundation's Albury Wodonga accommodation centre, Hilltop, provides patients and their carers with comfortable and affordable accommodation close to the Albury Base Hospital, Albury Wodonga Cancer Centre and other local treatment centres.
Increasing demand has prompted Fight Cancer Foundation to embark on the Stage 2 expansion of Hilltop, which will increase capacity of this unique and vital service by 3,650 guest nights each year.
---