Supporting Families Fighting Cancer since 1989
Fight Cancer Foundation is a national charity dedicated to helping people living with cancer and their families, and funding vital research into cancer treatment and cures.
Our support services include accommodation for people who must travel to access life-saving cancer treatment, and education support for children and young people living with cancer.
---
---
Meet Maxx
"Your son Maxx has leukaemia," the doctor told me.
I'd never heard this word before in my life. Leukaemia? What did that mean? I only had one question: how can we fix it? I assumed he would need some pills – but the reality was so much worse.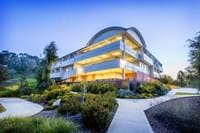 Hilltop Accommodation Centre: Stage 2 Expansion
Fight Cancer Foundation's Albury Wodonga accommodation centre, Hilltop, provides patients and their carers with comfortable and affordable accommodation close to the Albury Base Hospital, Albury Wodonga Cancer Centre and other local treatment centres.
Increasing demand has prompted Fight Cancer Foundation to embark on the Stage 2 expansion of Hilltop, which will increase capacity of this unique and vital service by 3,650 guest nights each year.
---