Fight Cancer Foundation's Recycle Shop supporting the Geelong community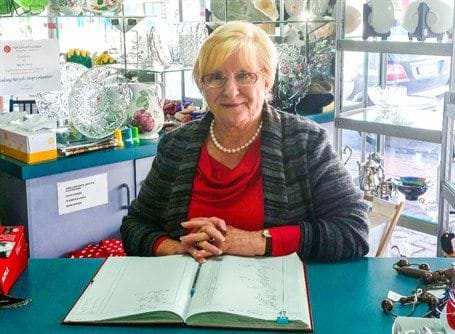 Fight Cancer Foundation's Geelong Recycle Shop Manager, Barbara Speldewinde was recently featured on the Matchworks website for her dedication to helping Work for the Dole job seekers gain practical skills and experience in their employment search. Read the full article below.
Geelong West shop gives job seekers a fresh start
by Sam Balazs

Barbara Speldewinde, 76, of Fight Cancer Foundation Recycle Shop in Geelong West has been giving Work for the Dole job seekers in her retail activity some extra help in finding employment.
With a 100 per cent success rate, Barb has been helping job seekers with their presentation, resumes, personal finances, and overall confidence. Building these skills has helped job seekers gain local employment in areas such as retail and business administration.
"I always like a challenge! We're not just a little shop; we're a community within a community," Barb said.

"There were people who needed help, and that's what we're about. The shop presents an opportunity to help the wider community by offering people seeking work support and hope for their futures," she said.
Barb comes from a nursing and infant and child welfare background, and has lived in the region for 40 years. She has worked at the Fight Cancer Foundation Recycle Shop for more than 16 years and has an extensive history of helping people of all backgrounds gain employment.
Having watched the coming and going of local businesses and the rise in youth unemployment over the decades, she said empty resumes, poor presentation, and low confidence are some of the main barriers people face when looking for jobs.
"I can pick them as soon as they come through the door," Barb said.

"Once we've educated them on presentation and appearance and we have them in appropriate clothing, I grab the paper and say 'now I want you to apply for all of these positions'."
Barb is always on the lookout for opportunities to help Work for the Dole job seekers, even recommending a job seeker to her accountant where she is now working as the front-of-house receptionist.
When asked what motivates her to go the extra mile for job seekers, Barb said "That's just me. We all could be born into that situation. I believe that everybody at some stage in life needs a hand, and if I can do that for some kids, perfect."
Determined to keep her perfect record of successfully helping Work for the Dole job seekers into employment, she is eager for her next candidates.
"Just keep them coming!" Barb said.

Fight Cancer Foundation's Recycle Shop supports the Geelong community by providing access to affordable clothing and household goods, with proceeds going towards giving hope and saving lives in the treatment and care of people diagnosed with cancer.
The Work for the Dole programme is an Australian Government initiative.