Face of Hope: Chelsea Lewis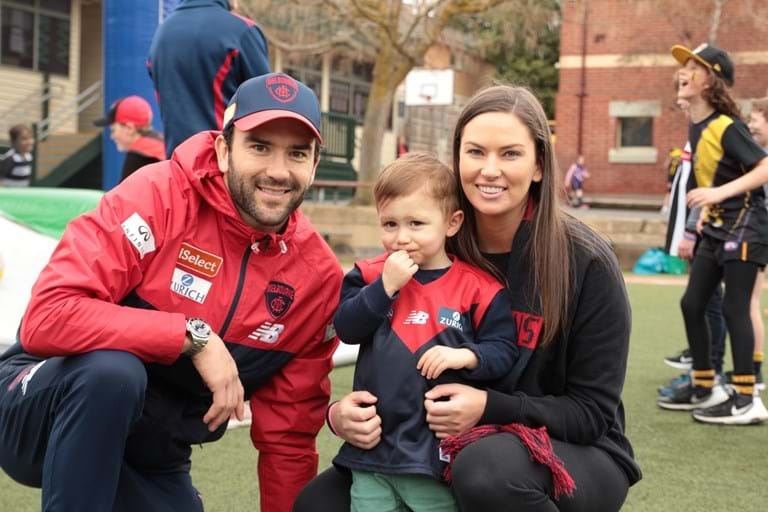 Chelsea Lewis, a teacher at Malvern Central School in Melbourne, has been an avid supporter of Footy Colours Day since 2014. Each year since then she has organised an amazing Footy Colours Day celebration at her school, raising more than $54,000 in the last four years.
How long have you been involved with Fight Cancer Foundation?
I have been involved in Footy Colours Day since 2014 making this is our fifth year raising money for Fight Cancer Foundation.
What do you do?
I am a primary school teacher at Malvern Central School. I have been organising Footy Colours Day at our school for the last five years. This involves organising fundraising, liaising with staff from the Footy Colours Day team and also organising everything that happens on the day.
How did you become involved?
Originally I became involved because I have a brother who plays AFL, Jordan Lewis. I thought it would be a fun idea to have him come and do a footy clinic at our school. I then thought we could have a footy colours dress up day and raise money for a charity. When I started looking into it I realised that there was an actual Footy Colours Day which raises money for Fight Cancer Foundation. In our first year we raised $490 through a gold coin donation. The following year we upped the anti and increased our fundraising total to $8332 by having a fundraising raffle. In 2016 we raised around $11,000, in 2017 just over $14,000 and in 2018 just over 20,000. That takes our total raised in the last 4 years to just over $54,000 from our school.
Why do you choose to support Fight Cancer Foundation?
We love supporting Fight Cancer Foundation because as a school community (teachers, parents and students) we understand the importance of getting an education. Fight Cancer Foundation allows kids with cancer to have access to an education whilst undergoing treatment which we think is fantastic.
Last year, Jordan and I went and visited The Royal Children's Hospital to visit some of the children undergoing treatment. We got to see where lessons take place at the hospital and talk to the teachers that work there. More importantly we got to talk to and spend time with some of the children in hospital and hopefully brighten their day.
---